Download Your Free
Buyer's Guide Checklist
Make selecting the right cloud security vendor a little easier with this buyer's guide checklist
We hate SPAM, too! We will never sell, rent, share, etc. your contact information. Privacy Policy
Free Cloud Security
Buyer's Guide Checklist
Finding the cloud security tool that is best for your organization is a serious task. We're making it a little easier for you with this buyer's guide checklist.
Key features & functions that your cloud security solution must have
A clean, simple matrix to help you check off must-haves easily
Download today & qualify for a free 30-day trial of ManagedMethods--no obligation, no credit card required
Select The Best Cloud Security Solution For You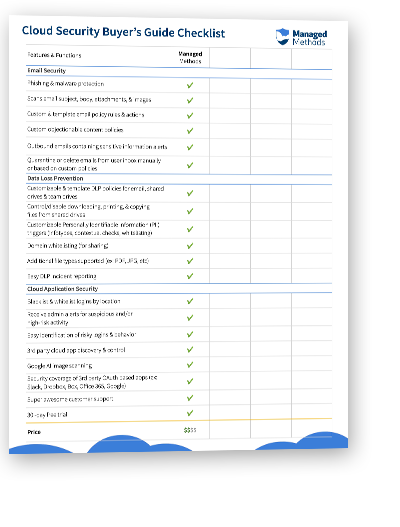 But we can try to make them a little easier!
This checklist outlines key cloud security features & functions to provide you with a clear decision matrix for your top vendors.
Some Decisions Aren't Easy
Key features & functions that your cloud security solution must have

A clean, simple matrix to help you check off must-haves easily

Download today & qualify for a free 30-day trial of ManagedMethods--no obligation, no credit card required

©2018 ManagedMethods
719 Walnut St. Boulder, CO 80302
303.415.3640